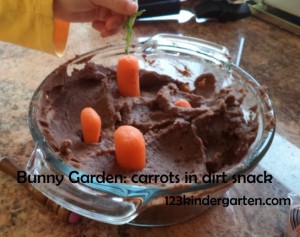 Today, we made a nutritious Easter snack for kids and bunnies that was quick, easy,  and really yummy with an extra ingredient of silly fun.
What do bunnies eat? Carrots. Where do carrots grow? In a garden in the dirt. So we made some dirt and planted a garden of carrots.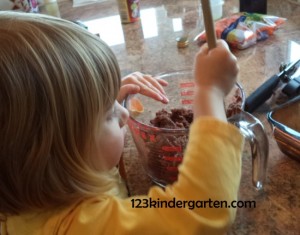 To make the dirt was simple. After washing hands, we opened a tin of refried black beans. Since the beans are already soft, they do not need mashing. We stirred in a small spoon of olive oil and one of lime juice. The only spice we used was cumin. Once it was all mixed, I scooped the dirt into a bowl and Little Sister smoothed it out to make the garden.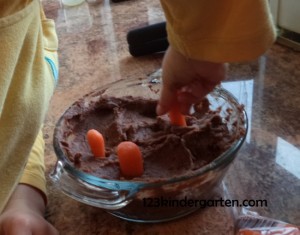 Next came the fun part, planting the carrots in the garden. Small carrots are needed for this so use a package of baby carrots. Adult hands need to poke a hole in the big end of the carrots. A skewer works for this or cocktail toothpicks. Child hands can plant the carrots in the dirt. To make the green tops of the carrot, stick a bit of parsley, small spinach leaf, or other greens into the little hole.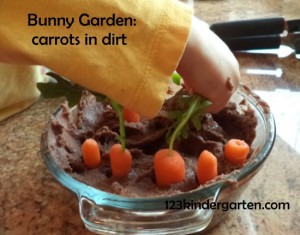 Before we even got the garden moved to the table, Little Sister started dipping and eating the baby carrots. Big Sister wasn't sure about eating dirt but tried a little tiny bite. Soon, we were all munching on the carrots and the yummy dirt. This carrot garden can be served as a snack or as an appetizer.
Cooking with kids has valuable benefits. When children are part of the process of preparing and serving food, they are less reluctant to try unfamiliar things. Kids increase their awareness of different possibilities and make better choices. Much of our being with others happens around food so kitchen time becomes connecting time.
What's cooking at your house this Easter?