Tips and Ideas for Painting with Kids
Do you include painting activities for kids at your house? Sometimes parents think it's too messy and expensive or worry they aren't talented enough. Below are some tips for painting with young children and some great suggestions for art play. The keyword is play so the intention is to have fun!
Materials needed for painting fun include colors, tools to paint with, and a surface of some sort.
Ideas for paint materials: (in addition to regular paints)
liquid paints, paint dabbers, paint crayons and sticks, food coloring, colored shaving foam, jello, puddings, water, mud, powdered chalk and water, candies like smarties,/skittles/m & m's soaked in water, koolaid powder
Various paint surfaces: (besides paper and parts of the body)
driveways, sidewalks, plain side of cereal boxes, old sheets, leftover wood scraps, aluminum foil, rocks, ice cubes,  newspaper, fences–painted with plain water, coffee filters
Different tools for painting: (as well as brushes of all sorts)
q-tips, hands, feet, spray bottles, sponges, marbles, string, bubble wrap, straws–for blowing paint around, plastic spoons and forks, potatoes and other fruits and veggies, stampers, old toothbrushes, paint rollers, pastry brushes, leaves, branches, toy dinosaurs and cars
Alternatives to set-up: (other than easels)
floors, counter tops, tables, big trays, empty bathtubs, big boxes,
Tips for preparation and clean-up: (sanity savers)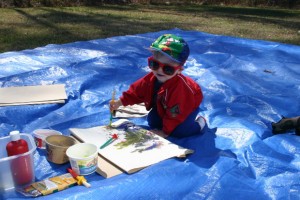 wear play clothes or just essentials, cover the floor or other surface with newspaper, spread a tarp on the deck or patio, undress kids and set up paints and paper in the bathtub all ready to be rinsed when done, keep a hose handy outside, have camera ready for unbelievable moments
 Some reasons why painting is important:
sensory stimulation, self-expression, problem-solving, planning, organizing, imagination, creativity, visualizing, concentration, muscle coordination, language, recognizing patterns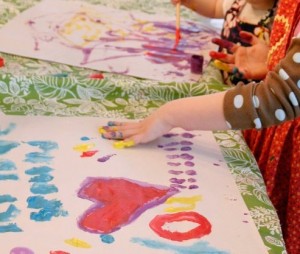 Not all kids will be interested in painting at an easel with a brush, but there are many ways to paint. Given the opportunity, kids will find something that appeals to them and create their own painting activities. Yes, you can participate too. The objective is fun and learning by doing so kids and grownups can enjoy the experience without the stress of having to produce a masterpiece.
Won't it be a 'work of h-art' whatever kids do?