Chalk Art Play-of-the-Day
As a parent, could you use some doable ideas for fun art activities? Do you avoid doing anything art with your child and ask why is art important for kids? To do art with kids, you do not need to have special talents and skills. Art for kids is another form of play. The importance of art is not on the product that kids make but on what they do, the whole process.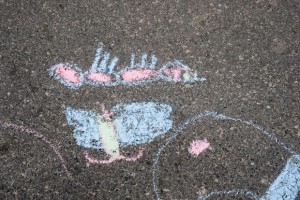 Have you ever walked down a sidewalk and noticed some chalk art? You may or may not have been able to figure out the pictures but quite likely the bright colors were enough to make you smile. Chalk art is also a good way to make sure the emphasis is on the doing because whatever kids draw will disappear the next time it rains.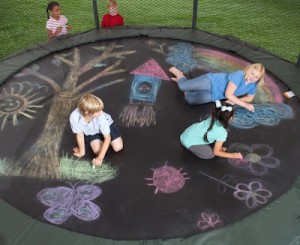 The only materials needed are some chalk and a big, flat space like a sidewalk, patio, or driveway. Drawing on a trampoline is another option and possibly, a deck. Chalk is very inexpensive and you can find it at many grocery stores and dollar outlets. It washes off both hands and clothes. To use over and over, store chalk in a container so it doesn't get wet.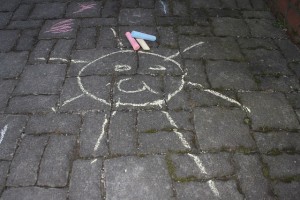 Younger kids will first draw lines, squiggles, and scribbles. As they get older what they draw takes on more recognizable shapes. It's not a surprise that kids often draw a sun. After all, they are outside and can see and feel it. Children don't need to have something to keep. The experience is what matters.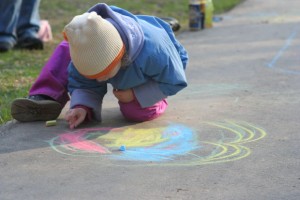 As kids play and create with chalk, they are using their imaginations, expressing themselves in pictures, learning to see images in their mind, problem-solving, developing concentration, exercising muscles, making choices, and more. They are making their mark on that time and space.
This isn't just for kids, you can participate too. For a play-of-the-day, how about some art fun with chalk?