Just in time for Father's Day, there is a super article on how dads and kids play plus, I had the privilege of talking with a single dad about play. Play is so natural that even animals do it, but there is always something new about play. We can learn so much about and from play.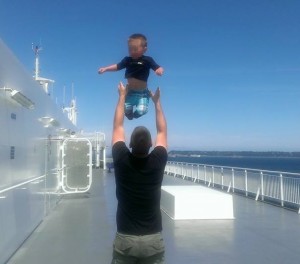 In the article from the Washington Street Journal, Moms Let Dad Be Dad,  writer Sue Shellenbarger, summarizes recent research on what she calls the father factor, and "the seemingly random, sometimes silly play many dads engage in with their children." Did you know that the same hormone in the brain stimulates different areas for very different kinds of interactions in moms and dads? Of course, we can see this in how each parent plays.
At an open-house at our local Child Development Center, I met Mr. David McCallum. Mr. McCallum is a single dad and just back from an extraordinary ocean sailing challenge. He shared with me his thoughts on play:
"As a child, I recall playing with 6-8 friends regularly on bikes and skateboards in the neighborhood near my home and school…my folks had a family boat that we spent a lot of time on, so playing on the boat meant rowing, fishing and crabbing, and sailing."
He walks the walk that "families that play together stay together" and finds time as a single and working parent to play. "As I Dad, I have the privilege of time to play with my kids. This involves outside sports and games during the summer, swimming, sailing, hiking, and some sports, and inside play during the winter, art & music."
We all accept that play is important for kids, but David reminds us that adults need to play too. "As an adult, I fully believe play is an important part of our daily lives.  I believe in working hard and playing hard in life. It is so important for overall wellness."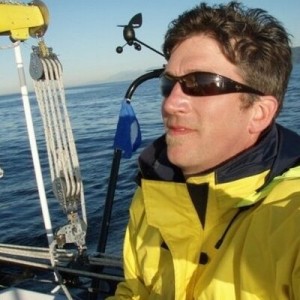 "Play to me involves both physical activity (exercise) as well as relaxing times. Play is even cooking and enjoying a nice meal, and a sunset beach walk with a lover or friend. So, as the saying also goes… "all work and no play makes David an unhappy Man!"" None of us benefit from an agenda of no play and this photo shows David during the hard work of sailing play.
The WSJ article included what many of us already know, dad-play is often more hyper than mom-play. Researchers are assessing dads on "The Laughing Task" where a dad and child are placed in a room with no toys and the task of making the child laugh. It doesn't take long!
For all the dads, and all those in the role of dads in the life of a child, have a PLAYful Father's Day!