Rollin', rollin', rollin' on the summer with some easy fruit roll-ups for cooking with kids that makes a fun, colorful treat anytime, especially July 4th. These can be part of the main course or dessert.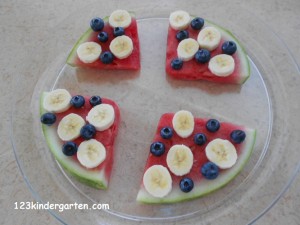 Last year's treat, watermelon pizza was super to make and eat. It tasted like summer and looked so colorful, although it was a bit tricky to eat because the berries rolled off. These roll-ups are easy to do and just as sweet.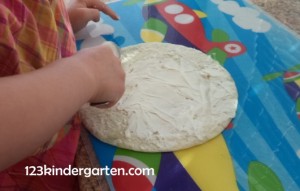 To assemble the roll-ups, start with a small tortilla. Kids can spread a softened or spreadable cream cheese over the tortilla. The back of a spoon is easier to use than a knife.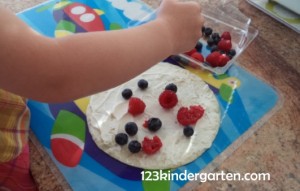 The next step is to sprinkle raspberries and blueberries on the cream cheese. If the raspberries are on the big side, they can be flattened down to make the rolls a bit tighter.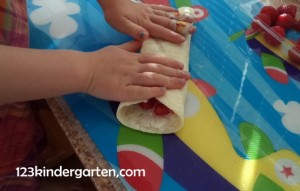 Starting at one side, roll up the roll-up. Hmm…it's not hard to guess where the name comes from, is it? Place these on a tray and pop them back in the fridge until it's time to serve. They can be cut in half to show off the red, white, and purple…er, blue. Good thing blueberries are called blue.
Including kids in preparing food for family and friends is so important. All of us, no matter our age, like to feel valued.  Helping is an opportunity for kids to contribute to others through their efforts.
Cooking with kids has learning and fun ingredients too. There's lots of math. Kids can count the berries as they spread them out. Are there more blueberries or raspberries? Which ones are bigger? That's categorizing, counting, and comparing.
Doing the steps in order is great for the higher-order thinking skill of sequencing. What shapes roll? Circles do and that's the shape of the tortillas.
These rolling roll-ups really roll, plus they are tasty too. Happy 4th!
P.S. Here are the details of the watermelon pizza.