Star Wars is still pretty exciting so for a play-of-the-dough, er… I mean, play-of-the-day, here is a Star Wars play dough activity.
Many kids have collections and some adults too. The rocks, seashells, cars, and stickers of children's collections can transform into coins, books, antiques, matchbook covers, records, stamps, bottles, and more. Really, there are gazillions of things people collect. So it's not strange to have a cookie cutter collection; unusual but not weird. My collection is small and I'll confess to really wanting a Star Wars cookie cutter set. The two baskets in the hard-to-reach cupboard above the fridge aren't completely full. There would be room.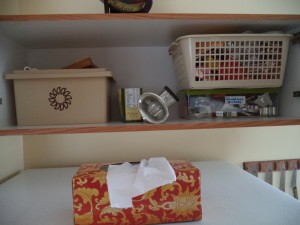 While the cookie cutters aren't needed very much at our house for making cookies, they are often requested for play dough time. Even though there are no star wars cookie cutters, there are plenty of stars and circles for making different planets. The kids have several assorted plastic sets too. We had some yellow play dough ready to go but kids will happily play with whatever color is available. Blue is a good choice for sky too. Little Sister has a package of several colors in small amounts that she shares occasionally.
Use whatever you have at home, be it play dough, plasticine, slime, or silly putty for a Star Wars play dough activity time. Your child may or may not want cookie cutters. Some other tools could be a plastic knife, rolling pin, turner, straws, popsicle sticks, or other items. Googly eyes are fun for making alien faces. Whether your child plays with play dough often or not, there will likely be an assortment of molds and cutters that are fun anytime.
Not only are kids firing up their imaginations and creativity, they are building other skills too. As they focus on manipulating the play dough, they are building their concentration spans. They are solving problems and planning. Small muscles in the hands are getting exercise and developing strength. They are engaging in back and forth conversation and negotiating as they explain, share, and take turns.
With or without special cookie cutters, this Star Wars play dough activity has quite a collection of fun and learning, doesn't it?