Star Wars sensory play does not need anything elaborate. A sink half-full of warm water and a few items will keep a child busy for a good length of time. Although Star Wars sensory play would imply playing with Star Wars characters and toys, that wasn't exactly what happened. I did suggest giving the Star Wars people a bath, but instead just stars got one. According to Big Sister, stars float in the sky so maybe they float in water. Little Sister just wanted to play in the water.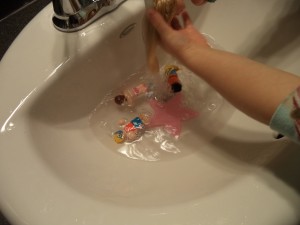 The bathroom sink wasn't big enough for both kids. The kitchen sink is double so they each had one, and chairs made them tall enough. Usually, there will be water that gets on the floor too so if you give a quick sweep as they play, you can just use the water when they are done to wash the floor.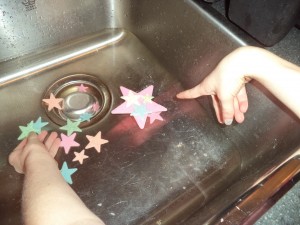 The flat plastic stars didn't float, unless they were carefully placed flat on the water. Big Sister discovered she could also place small stars on the larger one and it would still float. When we drained the water, all the stars headed towards the drain.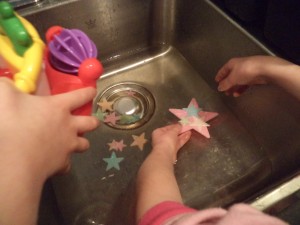 Little Sister kept making trips to the bathtub to get a few tub toys that she likes to play with. There almost wasn't room in the sink for so many. We talked about why the sink was so crowded but not the tub. It has more space.
There are some great ideas for Star Wars sensory play. Beans, small stones, colored rice, sand, soap, and water beads are also possibilities for bins, as long as kids are past putting all these small things in the mouth. Little hands love to feel and kids need the input from their senses to stimulate brain development. Water is particularly relaxing for kids.
What might your child like to use for some Star Wars sensory play?