There are dozens and dozens of ideas for Star Wars foods, but this is one of the tastiest, Star Wars Tortilla Planets, so nutritious they can be breakfast and so good they can be dessert. Thanks to Heather Tallman, at Basilmomma for these. Don't they look delicious?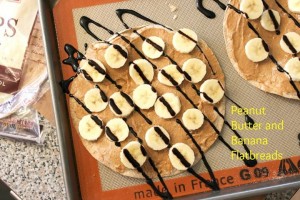 Place two tortillas on a cookie sheet, (lined with parchment paper), brush on a bit of melted butter, and sprinkle with cinnamon and brown sugar. Bake in a 350º oven, 10 min, until puffy. To serve, place one or more on a plate, spread with nut butter, and cover with sliced bananas.  Bananas are soft enough for kids to slice. A plastic or picnic knife is usually the right size for little hands. Now, make some planetary rings like Saturn with a few swirls of chocolate sauce. Instead of swirls, the chocolate could be squirted like the tail of a comet. Imagination can be an ingredient too, especially if kids are doing the squirting.
Cooking with kids is a great activity for so many reasons. Firstly, while adults think cooking is work, kids think it's fun. They get to mix and stir, watching as ingredients change before their eyes, to splash in soapy water in the sink to clean up, and best of all, make and eat tasty foods. This helps develop a positive attitude to food and nutrition where kids take more responsibility for what they eat.
In addition to the ingredients, there is a great deal of language mixed in. Cooking uses some specific vocabulary, like batter, ingredients, tablespoon, and more. Recipes include explanations and instructions and so will conversation.
Following a recipe means doing steps in a particular order. This is the skill of sequencing, plus there's the math skills of measuring and counting, and the science skills of observing and predicting.
The name for this treat didn't start as  Star Wars Tortilla Planets but don't they look yummy enough  for any time and any galaxy?