When is a box not a box? When kids play. Today's activity, Star Wars play with Box and Tube, engages the whole child, body, brain, heart, and imagination.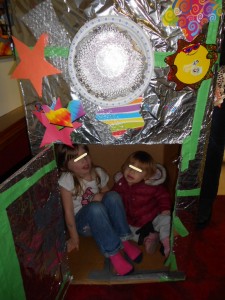 The materials needed are, of course, a box of a fairly good size and a long cardboard tube or roll. Anything else, like crayons, glue, paints, scissors attached to grown-up hands, aluminum foil, etc. can be determined by kids, likely as they negotiate with parents and caregivers.
To kids a box is both contained and limitless. It can become a small, private world where they are in charge and make the rules. But, at the same time, it is unlimited in possibilities. A pirate boat, a car, a store, a fort, a whatever. The box can sit in the middle of the floor, safely at home and travel to mighty battles in distant galaxies.
A paper towel, wrapping paper, or other tube is a magic wand, for it can conjure up anything. With a tube in hand, kids feel brave and strong, quite different from every day when they are the smallest and it seems like adults are in charge of everything.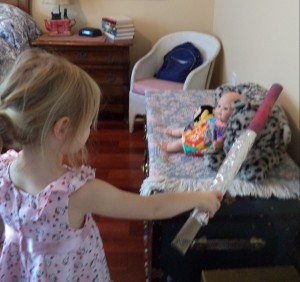 Little Sister wanted to make a lightsaber. Wrapping paper rolls are usually long enough but since we didn't have one, found 3 shorter ones in the recycling. Since they can be any color, she painted a tube any color. It seemed brushing the color on wasn't fast enough, so instead she just rolled the whole thing in paint. It wasn't shiny enough tho but adding tin foil helped. With a doll in one arm, and the lightsaber in the other, she advanced on a big stuffed leopard. Her body posture was quite firm and straight. She was brave, she announced later.
Isn't it amazing what kids learn? We often have no idea how they have figured out so many things. Kids have no actual experience of swords or warriors, other than the second-hand of books and screens, yet they take on the manners as soon as they pretend to hold one.
Star Wars play with box and tube may look quite different from our outside view than it does from the imaginative view of a child. Come to think of it, isn't that how the movies themselves started—in the imagination?