The month of March is the only month to suggest action—marching. There is a lot of other action too. Have you tackled spring cleaning with young kids?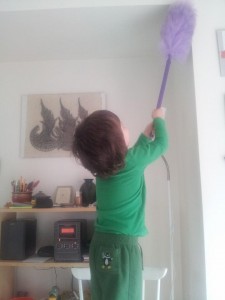 At this age, helping can be quite appealing to kids. They like to feel grown up and so they are eager to try things like dusting, sweeping, and even vacuuming. While there are kid-sized items, children want to use the real ones that adults do. Of course, mops and brooms with long handles can be a threat to furniture with glass doors and anyone who might be in the area. If possible, you may want to take out a section of the vacuum wand and, if it's adjustable, shorten the mop or broom.
Picking up toys doesn't seem to be much fun because kids have to do this every day but washing them is different enough to be exciting. Give kids a big pan of warm, soapy water on the floor or deck. Bring out some plastic toys that could use a cleaning and let kids scrub away. A laundry basket is a good place to put the ones that are clean but need to air dry. The advantage here is any water and soap that spills can just be used to wash the floor.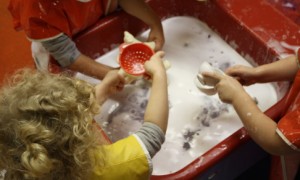 While cleaning toys, kids may be able to sort out ones they don't really play with any more. These could be donated, along with outgrown clothes and footwear. Toys can add to clutter and having a manageable amount is easier for the whole family.
A spray bottle with water, soap, and a little vinegar is almost like giving kids a magic wand. It's definitely not for cleaning books on shelves and papers on a desk, but usually fairly safe in the bathroom and kitchen.
You may wonder if spring cleaning with young kids is more work than tackling it by yourself, but it's important to include them. These are life skills and social ones, part of the way that we support each other. Being able to contribute makes kids feel valued. What tasks can your child do?