Would it surprise you to know there are some wonderful children's stories and books about bubbles? And not just the kind in the bathtub.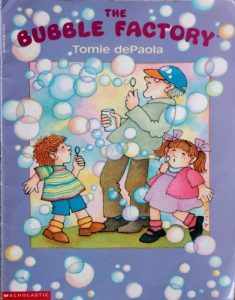 The Bubble Factory by Tomie de Paola tells the story of a girl and boy, twins, who visit the factory where their grandpa used to work. What would workers in a bubble factory make? Bubbles, of course. The factory has many different bubble solutions. Although they try not to get into trouble, these double kids mix two top secret solutions and create something new and astonishing.
After reading the story, kids can blow bubbles and more. They might like to use blocks, Lego, and other construction toys to build their own bubble machines.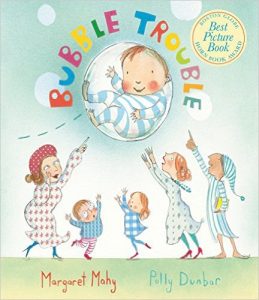 Margaret Mahy and Polly Dunbar's book Bubble Trouble is definitely a read aloud story. Baby Brother is trapped inside Mable's bubble and floating away. The words in this book are trouble for tongues but the silly sounds make for lots of giggles. This book is a double treat, a wonderful story for imaginations and amazing language that tickles ears and brains.
(By the way, the word cavil rhymes with gravel.)
The following video reads the story Bubbles, Bubbles in my Bath by Alyssa Liang. Using a predictable pattern, and clues in the pictures, kids can quickly read along too. What does your child love in the bath?
Sharing books with children is a powerful way to build a foundation for learning to read. Kids not only learn what books are all about, they grow some great language skills and increase their vocabulary. One of the most important concepts is the funny, black squiggles on a page hold meaning. Reading books to kids, helps them figure this out.
Bubbles can inspire lots of fun and learning. Are there some stories and books about bubbles you and your child enjoy?