Playing, having fun, and learning can all happen at the same time. 1 2 3. This bubble cake combines more than ingredients. It's easy for cooking with kids. There's hardly anything to wash up since you mix it and cook it in the same pan. Sometimes, this Bubble Cake is known by another name, Puddle Cake, but it does make some fizzy bubbles when mixing.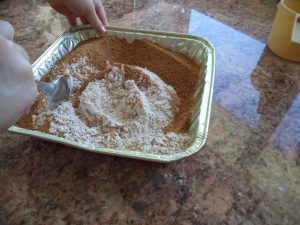 Preheat the oven to 350 F. First, lightly grease a square cake pan. (My cake pan is almost an antique, and smaller than 8" by 8".) Kids can use their fingers to spread some butter or oil on the bottom and sides. Measure the following ingredients directly into the pan and mix them together with a fork:
1 cup of flour
2/3 cup of sugar
5 Tablespoons of cocoa
1/3 teaspoon of salt
3/4 teaspoon of baking soda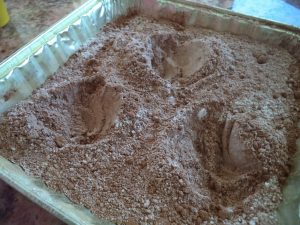 Next, with a spoon make 3 small depressions or holes for the puddles. Pour each of these into one of the small holes:
4 Tablespoons of oil
2/3 teaspoon of vanilla
2 teaspoons of vinegar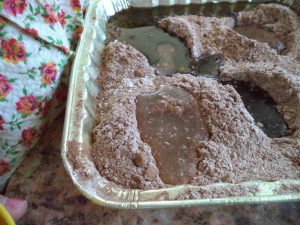 The vinegar fizzles slightly as it meets the baking soda. Drizzle 2/3 cup of water over all of this and stir until smooth. Put this in the oven and bake for 25 minutes until the top springs back when tapped and a toothpick inserted in the center comes out clean. Time can vary a bit depending on altitude and ovens.
When cooking with kids, they learn how to follow instructions, use numbers, and practice measuring. Just like other recipes, doing the steps in a particular order is very important. There's lots of language being mixed in too. Children take pride in their efforts. Not only do they enjoy a sense of satisfaction but they also feel included. Making the bubble cake requires teamwork and kids are part of the team. Science is certainly involved. What happens when the vinegar is added? There is a reaction. Did it happen when other things were added? The heat of the oven creates another kind of change.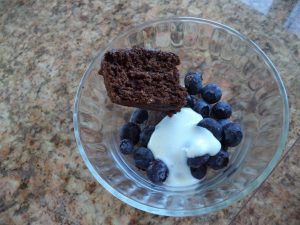 Cool the cake after cooking before eating. We served it with blueberries and cream. Are there any bubbles in the cake now? Did you know you could eat bubbles?