In only one generation, children have been separated from Nature. For a simple but magical activity, kids can have some chasing bubbles nature time.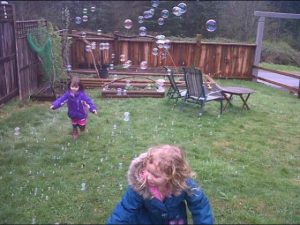 Part of the fun of blowing bubbles is then chasing and trying to catch them. Outside, in a backyard or park, kids will also catch nature. On a calm day, the bubbles may only float a little way until they settle to the ground. Chasing these ones might one be a breeze. On a windy day, the bubbles may float high and fast and kids have to jump and run quickly. Either way, children see Nature in action. A bubble on the ground invites a child to come right up close and also notice the face of nature. Those in the air, call out to kids to share the sky.
Children desperately need time in nature. We all must have a basic relationship with our environment. Whether we live in cities or the wilderness, we live in Nature. It's our home. The lack of time in nature is impacting children with an increase in obesity and even depression. Natural light is also important for development of eyesight. A connection to nature can decrease stress and anxiety. There are so many ways that it enhances our lives. Not only do we take it for granted, we are failing to include time in nature for our children.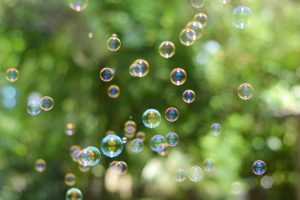 Giving children some soapy water solution and any sort of bubble wand is simple and inexpensive. Even if children are only blowing bubbles from a deck or balcony, they are still interacting with nature.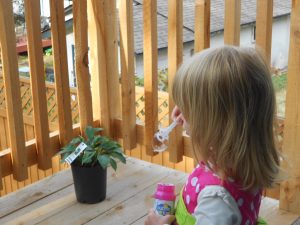 In a way, it's a conversation without words as nature replies. In any relationship there is an action and a response. Through blowing and chasing bubbles, there is an interaction between a child and the natural world. Could some chasing bubbles nature time be your child's play-of-the-day?