Besides books, you and your child can make up imaginary stories about bubbles. Adults might think it's hard but kids don't. Great ideas are often silly.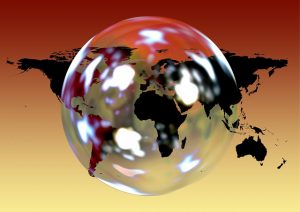 After consistent exposure to books, kids will use a similar format in their own stories of beginning, middle, and end. They will have a problem and a resolution, and a variety of characters. More or less. Their ideas are often quite different from ours. A simple story idea could be a bubble that floats away to imaginary places. Where might it go? What might happen when it lands? A bubble could go visit grandparents, or it may discover a new planet.
Magical powers are not limited to wands, or hands inside gloves. Bubbles may have magic and kids can use them to fight dragons, build towers, and create explosions. If only bubbles could wash dishes, do laundry, and clean floors all by themselves. Perhaps, one day…
Maybe kids could travel right inside a bubble. There are videos of plastic bubbles that people really do use. Riders skim across water, zoom down mountains, and have contests pushing each other over. These inventions come from imagining being inside bubbles. Imagine being able to go deep in the ocean inside a giant bubble or far, far into outer space. The best thing about imagination, there are no limits!
Imagination is not just part of childhood. Being innovative and creative in industry and business is highly respected. Developing imagination is like other skills and abilities. It is strengthened with opportunities and practice. The best time is during the early years. Being able to imagine is also critical for relationships. For empathy, we need to imagine how someone else might feel in a situation.
For a play-of-the-day, there may be some minutes when you and your child can share some imaginary stories about bubbles. Once upon a bubble…?