Children have all different kinds of interests. We can support kids by finding books they like. Here are some great transportation books for kids.
One of the favorite transportation books for kids of a whole range of ages is Richard Scarry's Cars and Trucks and Things That Go. Did you know this was published in 1974? For over 40 years kids—and grownups—have been loving this book. Did you look for Goldbug on every page?
The Pig family goes on a picnic and travels the highways and byways, along with wheels on things we've never seen, like a pickle, a pumpkin, and a broom. Officer Flossie chases Dingo in his bright red sports car. Each page has adventures of one sort or another.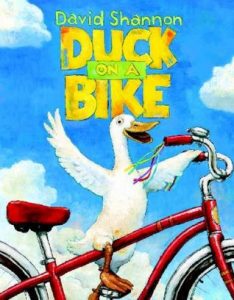 Duck on a Bike by David Shannon is another adventure. Duck learns to ride a bike just like kids. Although the other animals on the farm are somewhat skeptical, they soon forget their criticisms and try it out for themselves. This is a book that kids love over and over, especially the very last page which gives duck another idea and tickles the imagination.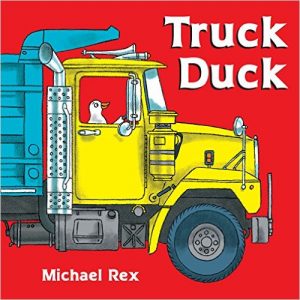 Speaking of ducks, Truck Duck, by Michael Rex, has only 2 words on each page but sometimes reading them can be as funny as the illustrations. These two words rhyme which makes it harder not easier. How many times can you say Plow Cow without it becoming plow clow?
Stories that use rhyming text are very helpful for training the ears to listen carefully and the brain to pay close attention for slight variations in sounds. Kids need to hear zillions of words to figure out that these little bits of sounds can be combined in different ways. This is called phonological awareness and helps for learning to read. Just think of car, star, far, jar, tar, par, and mar. There are many other books with words that rhyme.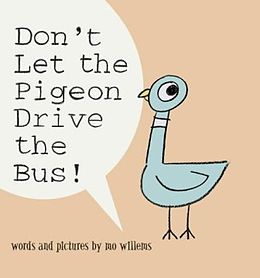 Mo Willems of the Elephant and Piggy series must have kids. Don't Let the Pigeon Drive the Bus sounds just like kids who are trying to convince their parents to let them do something. When you read this book, be sure to use the same tone you hear at home to whine and complain.
If you want to make sure a child is listening when you are giving instructions, start with "Now, don't let the pigeon drive the bus." Right away, kids engage and there's a greater chance they will remember. There are so many wonderful books for kids with trains, boats, cars, trucks, airplanes, rockets, submarines, diggers, ambulances, hot air balloons, and more. All kids will have favorite transportation books. What are the well-loved ones at your house?