Sensory play is very important for kids including taste and smell as well as seeing, hearing, and touching which they can do with a Traffic Light Smoothie. Safety is important too, so parents and caregivers tell kids about red lights and stop signs. They are pretty familiar with traffic lights.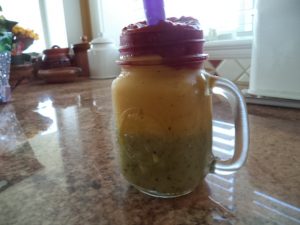 Traffic lights are red, yellow, and green. (Sometimes, the yellow light is called amber.) A traffic light smoothie uses these same colors. To make the smoothie, the colors need to go in the same order as the lights. When the lights are vertical, do you know which color is on top? Is it red or green? There's a poem to help remember:
Red on top and green below.
Red means stop and green means go.
To make the smoothie with the same order, we have to start at the bottom. That would be the green layer. What fruits are green? Kiwis are, so we peeled 2 kiwis and mixed them with half a banana in the blender. Then we poured this into 2 clear glasses.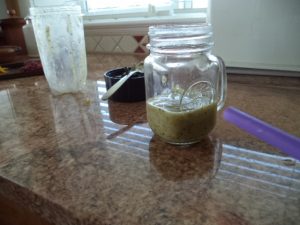 For the yellow layer, we had a juicy mango and the other half of the banana. This part needs to be slowly poured onto the kiwi layer.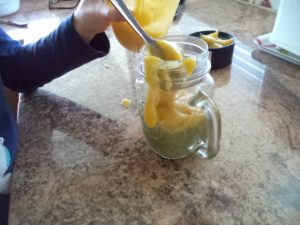 On top, we blended some fresh raspberries and strawberries from the garden. These may be a bit tart and need a spoon of honey.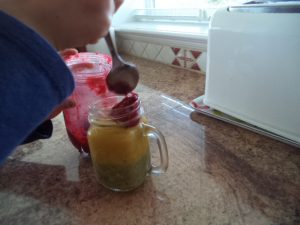 Now, the glass looks like a traffic light. Add a straw and enjoy.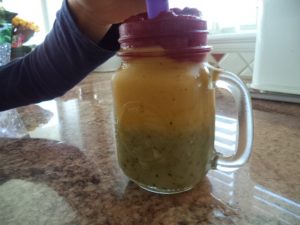 Cooking with kids is a fun activity. For the smoothie, kids can help with some of the steps, like washing the fruit and slicing the banana. A plastic picnic knife is usually smaller and easier for kids to use. After making and tasting, clean up is part of the process. We need to involve kids in washing up as well.
Cooking with kids includes so much learning and encourages the development of positive attitudes to nutrition. A few of the skills practiced in the kitchen are  following instructions, counting, measuring, numbers, special vocabulary, and science. It is certainly sensory and hands-on. There's the social aspect of cooking together and the feelings of pride and accomplishment. Think of these as unseen ingredients in the recipe.
Even drinking this traffic light smoothie has more to see and wonder about. Which color light disappears first?