Today's play-of-the-day, nursery rhymes language learning for kids, is inspired by the photos the space probe Juno is sending back of Jupiter's moons. Since there are 4 of them, would kids on Jupiter have to add a few words?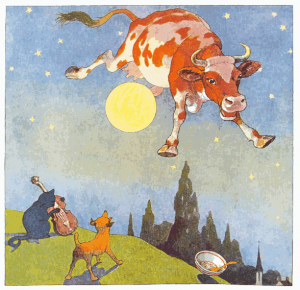 Hey diddle, diddle, the cat and the fiddle,
The cow jumped over the moon, and the moon, and the moon, and the moon.
The little dog laughed to see such sport and
The dish ran away with the fork, and the knife, and the cup, and the spoon.
Nursery rhymes are special packages of language. They are based on repetition and words that rhyme. Learning any language is a huge challenge for children and takes years. Listening to and saying nursery rhymes helps the brain connect to the patterns and the rhythm that are part of a language.
The ideas in a nursery rhymes are often quite silly. Who has ever heard of a cow jumping over the moon? These bits of nonsense capture attention and encourage really listening. What else might happen? When we read about dishes running away with spoons kids create pictures in their mind. This is called visualizing and is a valuable thinking and information processing strategy.
Do you remember any nursery rhymes? Besides Hey Diddle Diddle, there's Jack and Jill, Little Boy Blue, Little Bo Peep, Baa Baa Black Sheep, Hickory Dickory Dock, Humpty Dumpty, Jack Be Nimble, Mary Had a Little Lamb, and dozens more. There are many Mother Goose books and resources on line too. Choose a few and share them with your child. You can change the names of the characters, such as Jack and Jill to the name of your child and a brother, sister, or friend to make it more personal.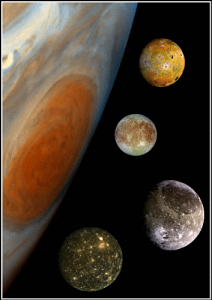 While not as old as space, nursery rhymes have been around for hundreds of years. Maybe it's time for some newer ones.
Jack and Jill went to space,
To check on other planets.
They found some rocks and moons and rings,
And plenty of very hot gases.
What ones can you and your child add for nursery rhymes language learning?