The children's book, The Paper Bag Princess, by Robert Munsch inspires some dragon playground activities for kids and dragons for today's play-of-the-day.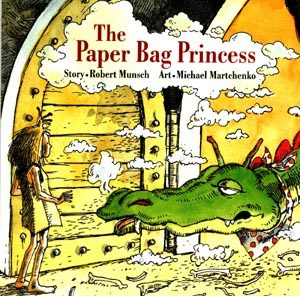 Dragons can sleep for years and years but they also travel great distances. In this story, a dragon burns all of Princess Elizabeth's clothes and captures her Prince Ronald. All she has left to wear is a paper bag. Elizabeth confronts this smart and fierce dragon and challenges him into showing off and performing some amazing feats. The dragon wears himself out and falls fast asleep. Elizabeth frees Ronald but instead of being grateful to be rescued, Prince Ronald objects to Elizabeth's dirty, smoky appearance and demands she wash and change so she doesn't marry him after all.
Like the dragon, kids can do amazing feats. They may not burn forests and fly around the world but they can run, climb, hop, jump, swing, balance, and more. One place for a number of movement activities is at the playground. Is there a playground or other available space in your neighborhood?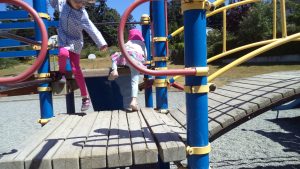 For a play-of-the-day, kids can dress for the weather and spend some time outside at a park or playground. Kids absolutely need to spend a good portion of their day in vigorous, physical activities. This isn't just for bodies, it's also for brains. As kids figure out the sequences and ways to move their bodies, they are wiring their brains. These connections and pathways are used as the basis for language, math, and other thinking.
Movement is vital for learning. Much research is now showing that kids need more time to be physically active. Many schools are finding ways to increase recess time for kids. Preschools and daycares include a good chunk of outside time in their daily routine. The most sensitive time for brain development is before the age of 5 so making sure kids have the opportunities to play with their whole bodies is critical. Can you take your dragon outside for some whole body movement play and some dragon playground activities?