New Year's Resolutions aren't typically for fun, but this resolution word and play of-the-day certainly is; kids learn and play with DANCE. This is an earlier post to inspire some dancing fun.
May I Have This Dance?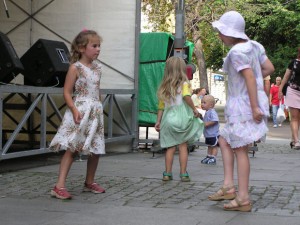 One of the easiest music activities with kids is to put on some music and dance around. From a very young age kids enjoy moving their body to music. There are pages and pages of YouTube videos of babies, toddlers, and preschoolers dancing. In the 4 min compilation below, short clips show more than 20 kids of various ages dancing to music.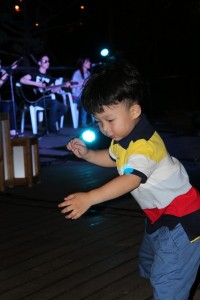 Little is needed in terms of materials for babies and kids to dance, just some music and a space to move. The floor is likely safer but as you can see in the video, kids will dance on the table and the sofa, inside the house or outside. Although on the surface, it doesn't seem like any preparation is required, kids have had to learn how to move various body parts. As they move to music, they are not only figuring out how to coordinate a variety of actions they are also listening carefully to the sounds and rhythm and responding to that as well.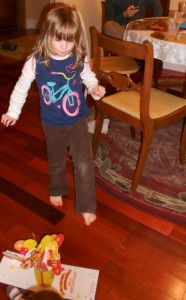 Children will each have their own style as they dance to music while some of the ways kids move will imitate what they see. How children dance reflects the culture and the actions of adults. Kids will dance to all kinds of music and a variety of instruments. The music can be with or without accompanying words and the words themselves can be in any language. The music might be provided by parents and caregivers singing or just humming or maybe with a greeting card powered with a tiny battery. Kids themselves might make the music for their dancing.
Dancing is an activity enjoyed by people of any age. Just this weekend, I attended an afternoon of music at a seniors' care home. Instead of holding on to a coffee table for support like a small child, some of the dancers were holding onto their walkers or just moving in their wheel chairs. For a play-of-the-day for your child–and you–can you put on some music and dance?
After all, kids learn and play with dance.