March is such a great month because it's name is action and kids love to be active, so today's play idea is a March action sequence fun game for kids.
Vigorous physical activity is needed for both body and brain development. This game can happen spontaneously and build on whatever your child is doing. When you notice your little one zipping around you can connect and say, "I see you are running, (or whatever it is your child is doing). Next, can you try hopping?"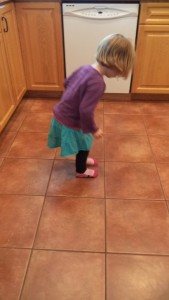 After a bit of hopping, you may suggest another action, "After those, could you try some jumping?" Go thru a whole selection such as hop, skip, crawl, jump, roll, slide, swim, fly, slither, etc. When kids–or you–seem to need a break, you can finish off with, "How about some hugging?" You can tailor the number of actions to your child's need and energy, and also yours. Sitting is an action too.
The whole idea of sequence is pretty tricky for kids. We've often heard kids get mixed up about who did what first or who was playing with something first. The explanation "I was playing with that first," may be referring to something just a few minutes ago or yesterday. Not only are kids trying to figure out the order of events but they are also trying to clear up this fuzzy concept of time.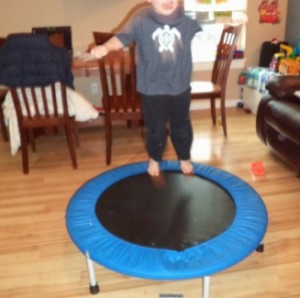 Using this action game, make it a little more challenging and give your child two or three to do in a row, such as "March first, then hop, and last roll. And do it again: march first, then hop, and last roll." This helps practice doing things in a sequence. Some kids can only cope with 2 actions, some may be able to do 3 or 4. It's okay if everybody gets mixed up, it makes for giggles. Kids also like to tell grownups 2 or 3 things to do in a row. Do the sequence a few times and then get really confused. Days need more laughter.
This March action sequence fun game isn't just for kids. Maybe it's great for adults too?