Each year at the start of summer it's International Yoga Day but yoga can happen any time. Let's try some fairy yoga play for kids—and grownups too.
Some of these yoga poses are from mom Giselle in a Fairy Yoga post on KidsYogaStories.com. The kids and I have done yoga a few times. Needless to say, they bend their bodies much easier than I do mine.
Not all fantasy creatures fly unless they have wings. This flying pose is usually called Warrior Pose 3, but instead of arms stretched in front, they are at the sides. Balance on one leg, lift the other behind you. Change to the other side and leg.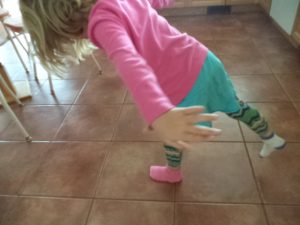 The butterfly pose also has wings but this time, legs are wings instead of arms. Sit tall and bend legs down with the bottoms of feet together. Move knees up and down to fly. Who might use their leg to fly?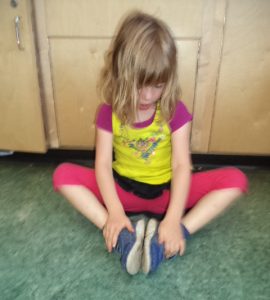 Some fairy beings swim, like water sprints and nymphs. Lie down on the floor or a mat on your tummy. Lift up the top part of your body, including arms. This little one has part of it but we caught the photo before she got her arms up. Move arms to swim.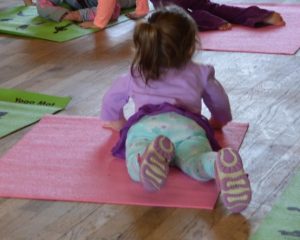 Fairies, elves, dwarves, gnomes, sprites, imps,  and other beings are often found in forests. What are forests made of? Trees, so we did a tree pose. Stand tall and stretch arms high into the sky. Bend and lift one leg soit rests on the other knee.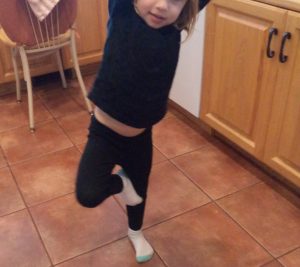 Have you ever seen one of these beings? They can be very still and quiet. Practice lying on your back with arms and legs a little spread out. Breathe in and out softly and slowly. Big Sister is showing us this one.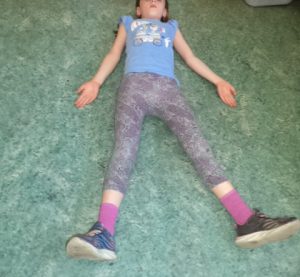 Yoga benefits us on different levels. Increased strength, coordination, balance, body awareness, and flexibility are some physical ones. The brain builds mind-body connections and practices focus and concentration. Emotionally, yoga increases self-regulation and relaxation, and decreases anxiety and stress. We all know kids absolutely need to move. Yoga can help meet that need.  Can your child's day include some fairy yoga play?
P.S. Just like our other fairy activities, this can be done by both girls and boys. There will be more plays-of-the-day  on the blog tomorrow.