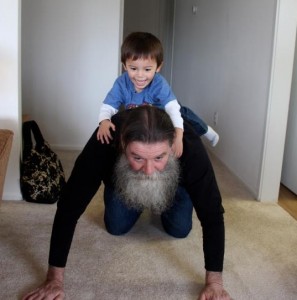 Gee, playing games with kids is not only fun, it's a great way to encourage learning and kindergarten readiness, and interact with others. One of the first games that babies play is peek-a-boo, often followed by "the chase" as soon as kids learn to crawl. Bathtime rituals may begin or end with a "come-back-here" streak, complete with squeals and giggles. Horsey is a game that kids and grownups have probably been playing for centuries. Are meals at your house accompanied with the uh-oh game of wee one drops the spoon a dozen or more times for you to pick up? (Grandma or Grandpa is a game wrapped up in a people.)
These and other games have a huge role in development. The basis for conversation is taking turns, one person initiates and the other responds. That's the same routine in many games. Little ones listen for the sound of an object hitting the floor. If it lands somewhere unexpected or takes too long, kids quickly look around. They are predicting and confirming using drop-and-listen. Games are a way to interact.
Simon Says, Hopscotch, and Ring Around The Rosie are other traditional favorites. Listening to instructions is one of the strategies practiced when playing Simon Says, as well as the language needed for giving those instructions. Kids will often make up their own games, playing with both the game and the rules. Concentration or matching pairs is fun on the floor or a digital device. Many apps use a game format because it is familiar and fun.
Today's play-of-the-day is playing a game or several. Hopefully, it won't be the "who-can-find-the-keys?" game! What other games are fun and learning for your child?