Here is a post from a couple of years ago with an apple fingerplay and a fall song. Somewhere, way in the back of your memory banks, you may find a fingerplay or song that you remember from your own childhood.  Although they are simple, songs and fingerplays help to make complex brain connections needed for different kinds of learning. There are countless videos on YouTube of young children using songs and poems as a form of play.
Songs and fingerplays are a sort of fun and learning language toy. They can be done in quick minutes as you pour breakfast cereal, wash a face or zip up a jacket. Kids learn new words, language patterns, and rhythm. The rhymes and the rhythm are powerful tools to help us learn and remember, as well as the music. They can stretch our memories and encourage careful listening. In order to say the words and do the actions, kids have to coordinate their thinking. That's a lot of learning in little bits of time!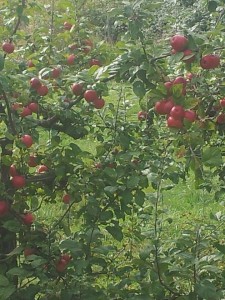 Apple Tree Fingerplay:
This is the tree with leaves so green. (bend arm at elbow, point fingers up and wiggle, other hand points to the leafy-fingers)
Here are the apples that hang in between. (close hands into round fists)
On the ground, the apples will fall. (lower fists, one fist taps on top of the other)
Here is a basket to gather them all. (if appropriate, extend arms out in front like a big circle and "gather" your child in a big hug)
*Kids love this one, especially when parents tease, "I got you now big, juicy apple."*
The tune Twinkle, Twinkle Little Star is used for this song about leaves: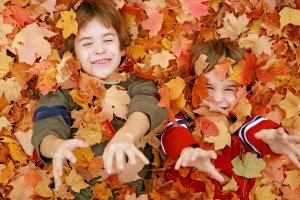 Mother Nature Did You Sneeze?
Falling, falling, falling leaves.
Mother Nature did you sneeze?
Red ones, yellow ones, orange, and brown.
Big ones, little ones on the ground.
Falling, falling, falling leaves.
Mother Nature did you sneeze? A–a–a–choo!
Sneezing and throwing leaves is fun, before raking them up and 'falling' in. There are countless more songs and fingerplays. No matter what ones you do with your child, they are a way to play, have fun, and learn all at the same time. Do you know of some other ones?