Kindergarten readiness develops as children play with what is around them, in this case it's rocks. Rocks are fun to use to make repetitive patterns. A pattern is some objects that are repeated in the very same way. Learning about patterns is not just a readiness for kindergarten skill, it's a fundamental skill for all learning. Plus, it will help to build higher level thinking, memory, and problem-solving skills. Kids need lots of experiences with patterns and lots of repetition. Patterning will be a skill that kids explore at kindergarten, but lots of experiences will help children develop their patterning abilities. One of their early patterning activities is crawling/walking; left-right, left-right, left-right is a pattern.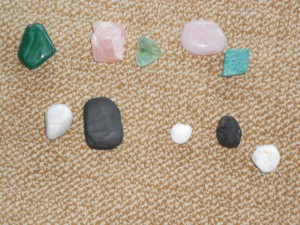 Two colors of rocks are easy to put in a pattern: grey-white, grey-white, grey-white. Or, in a color pattern (more or less) like these rocks. sometimes, patterns can have 3 parts: blue-purple-brown, blue-purple-brown. To start, you will need to put the rocks in a pattern and have your child "help" you figure out what comes next. You might need to supply the answer, too. Your child may be able to finish more complicated sequences and make his/her own patterns.
Some children catch the idea and some may need lots more fun with patterns before they understand. Just a quick look around your place will reveal lots of patterns; the bathroom tiles, the afghan on the bed, towels, dishes, furniture, clothes and more. Not only are these patterns in items we make, nature is full of patterns, too: butterfly wings, weather, bird migration, beehives, etc. Language has patterns, and music, math, and science, too. Pattern experiences here and there with your child will help  build pattern brain connections. What patterns can you and your child find or make today?