Playgrounds are not only fun spaces to play, they are great places for learning and kindergarten readiness too, exercising bodies, brains, and imaginations. In only a few minutes of watching kids playing on the playground, we can see how varied are the places they are imagining.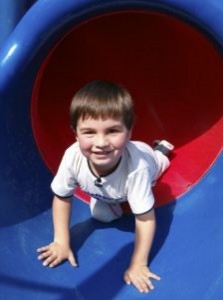 Not all playgrounds have a pole for sliding down, but when they do, it can of course be a just like the firefighters' pole. Kids will imagine hearing a fire bell and rush down to put out a fire. But the pole can also be on a ship, in a house, inside a mountain, or elsewhere. It can be a staircase that magically changes into a pole when needed for going down. Slides are often mountains for climbing up instead of sliding down. Tunnels can be underground or under the sea. Monkey bars and other equipment that kids play in or under, offer unlimited possibilities as homes, forts, stores, space stations, forests, restaurants, hospitals, and other places, even out of this world.
Kids do not just imagine other places, they also imagine actions. Airplanes and spaceships fly in the sky, and so do swings, so it's easy to imagine flying through the air when swinging. Bridges can hide trolls that come out when kids stomp across them, just like in the story of The Three Billy Goats Gruff. Kids imagine driving cars, riding on horses, jumping across oceans.
The ground of the playground can become the swamp and kids have to find ways to stay on the equipment without stepping in the swamp because of the crocodiles and alligators. (A friend of mine posted this picture yesterday when she came home from a bike ride and saw this real one near the sidewalk! I like the imaginary ones better.)
The imagination is vitally important for learning and for relating to others. In order for kids to understand how someone else feels, they need to be able to imagine. Imagination also helps kids figure out the real world. What does your child imagine on the playground?