Time to Rhyme and Play Today?
Strange as it sounds, familiarity with rhyming words gives lot of information about children's development. It is an important brain milestone.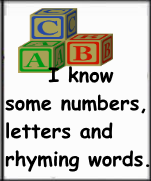 One way to explain is to compare rhyming words to a car engine's sound. A mechanic can tell if a car is running well by listening to the noise when the hood is up. If all parts of the engine are working as they should, the engine almost purrs. In the same way, we can listen to a child's engine—the brain. Well, we're not listening to the brain, but to the words a child uses. We can give kids two words like boat and train and ask them to choose which one sounds like coat. "Does boat sound like coat, or does train sound like coat?" The word-noise they choose tells us what's happening at a brain level.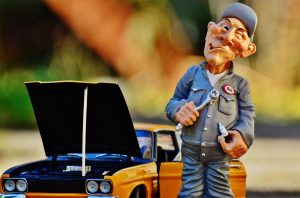 The ability to choose words that rhyme indicates the brain has figured out how language and words work. Each word is made of tiny bits of sounds put together like puzzle pieces. The words hat, bat, cat, rat, sat, have parts that sound the same and a really small bit that's different. We don't teach this to kids. They figure it out by themselves. This skilled is called phonological awareness.
If a car engine isn't ticking along as it should, the mechanic checks it over. One of the items to troubleshoot is if the engine is getting the proper amount and mixture of fuel. The brain is an engine and in the case of rhyming words it too needs fuel. That is, hearing and using lots and lots of words.
Some powerful research discovered that kids hear millions and millions of words a year. (Hart and Risley) Between 3 and more than 10 million. By the time kids are 3 years old, that's about 10 million to 40 million words. Like the engine and fuel, which brain is going to make the connection? The brain that's only been exposed to 10 million words, or the one that's been filled up with 40 million words?
Generally, kids can identify rhymes about the age of 4 years old. In the meantime, the brain needs language fuel. Some simple ways to add brain fuel to make the familiarity with rhyming words brain pathways are:
Read books. The same book read over and over does count, but reading a variety of books gives a wider vocabulary. Every now and then, pause and let your child guess the next word.
Tell stories. Make up your own stories. Tell about when you were a child, what your brothers and sisters did, what you liked to do. Together, create an adventure for the bus when the driver is a zebra.
Have conversations. You may need to supply most of the words when talking to kids. They don't know as many as we do. You can also have conversations with things. Be the voice of the fork as it talks to the spoon on the table.
Talk and eat. Eating meals together as a family is food for bodies and fuel for brains. Kids hear so many words around the table as adults talk to kids and to other adults and kids talk to kids. There's also a context in these shared conversations that gives a richness to the words. No calories for this icing on the cake.
Sing. Songs are another way to use words. Very often, there are rhyming words in the lyrics. Don't worry about your voice. Kids listen with their hearts.
A mechanic doesn't give an engine flash cards. We don't instruct an engine how to run. We can't tell a brain how to make connections and thinking pathways. We can provide the stimulation, the fuel so the brain develops familiarity with rhyming words. For kids, these are experiences and opportunities. The gas mixture needs to be language rich. How do you fill up your child's brain tank?