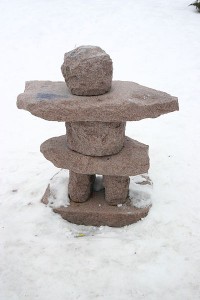 It's almost the Opening Ceremonies and time for some kindergarten readiness and Olympic fun. I remember 2 years ago at the Winter Olympics when one of the symbols was the Inukshuk. This figure is made out of rocks and is used to point the way to others. The inukshuk is an ancient form of communication and marks  an important place or path. It seemed fitting for a significant world event like the Olympics, communicating tradition and honoring the path that many athletes have taken.
At that time, many school children made inukshuk out of rocks. This wasn't easy for preschoolers so we made some using playdough in the shape of rocks. Since the theme of these posts is learning activities with rocks, this seemed like a great idea to do again on a play-date with 3 kids of different ages.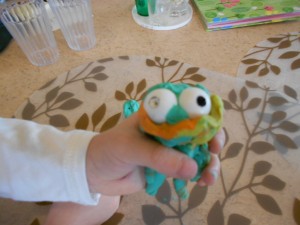 The mascots for London's games seem even easier to do but kids sometimes have different ideas about what they want. While one of these playdough creations, made by the 3-year old, looks somewhat like Wenlock and Mandeville, the mermaid and baby, made by the 11-year old and 7-year old are very different.
Playdough is a wonderfully inexpensive toy and learning tool. Here are some of the brain connections that kids can develop when using playdough:
vocabulary and descriptive language, measuring, counting, pre-writing,
sensory information such as shapes, texture, temperature, touch, size,
problem-solving, planning, imagining and pretending, etc.
Admittedly, this is not exactly a rock learning activity but it certainly is a play and learning one. The kids of various ages enjoyed their creating and had fun together. Isn't that the Olympic spirit?