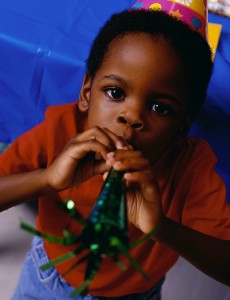 New Year's Eve noisemakers are more than fun; they also help celebrate some early learning and kindergarten readiness. Shaking, tapping, drumming and other actions are ways that kids can explore and play with both noise and rhythm. Did you know that rhythm is important for brain development? The brain connections formed through rhythmic activities help the brain prepare for learning language.
Your kitchen has lots of treasures for making some great rhythm instruments: elastic bands on plastic containers, plastic bottles with some dry peas or beans, pans and spoons, small tins with bottle lids, two chopsticks for tapping together, and more. You may set a few things out for your child to find ways to make sounds, or let your child find some things independently.


To extend the learning, you may be able to play a simple rhythm  and have your child try and copy it. Or clap a pattern and let your child do the same using a noisemaker of some sort. Try some together. Bodies can make all kinds of noise and sounds, too.
Rhythm is a basic component of life. Think about heartbeats, breathing, moving, language, day-night cycles, and more. Of course, a year is part of the rhythmic cycle of our world. And tomorrow is the start of a new one.
Happy New Year to Your Family!!