In my Spanish class, to practice vocabulary and numbers, we pretended restaurant and then we played it at home for some kindergarten readiness fun and learning. It was easy to find materials to play with, there were lots in the recycling and the drawer of plastic containers, and we had lots of time for the activity since it's summer.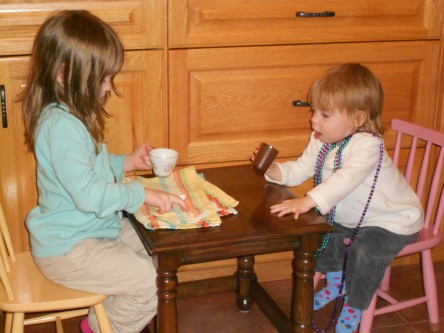 Children base much of their play on actual experiences. As they play, children's brains are busily searching through what they remember hearing and seeing. From that, combined with what they understand, children will then create new situations. Somewhat like creating a power point presentation, kids will add a track for feelings and emotions, one for actions, and another one for language. Play is really very much more complicated than we realize.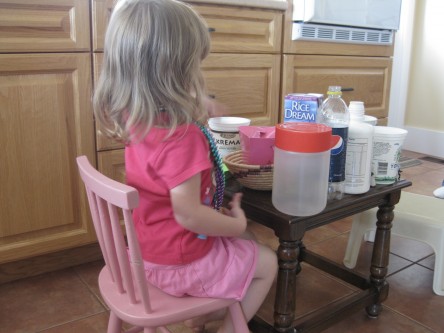 Younger children may only want to pretend for a short while and with just a few things. Older ones may want to have a waiter who pretends to write down the order, toys on plates to be the food, something to look at to be the menu, and, of course, pretend money or credit cards. Someone may be the chef, who does the cooking, or at least stirs some blocks in a dish. A chair or box can be the pretend stove. And cleaning up is part of what happens in a real restaurant, so that can be included in the pretend one at some point in the day.
As your child plays, you may want to interact occasionally with comments and questions, such as is this a restaurant at breakfast, lunch, or supper? Is it a big place or just a small one? This extends the opportunities to use language and to interact. Kids may want to color something to be the menu and find some dress up clothes. If the weather is cooperative, the restaurant could be outside for some fun in the sun. Could restaurant play be on the menu for your child or play center today?