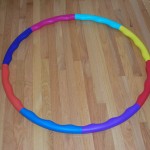 The headline in the paper said "The Hoop Is Back". The reporter interviewed Sadie Yancey from Virginia and Toronto and she talked about the increasing popularity of hula hoops and their health benefits combined with fun. A hula hoop is a great idea for kids. Learning to hula with one can be tricky but kids can also roll it or skip with it. As a prop to encourage imaginative play the hoop can be the steering wheel of a car, bus, truck, or boat, or a flying carpet that travels to anywhere in the galaxy. Younger kids enjoy putting a hoop on the ground and  just jumping in and out. The play value of a hoop far exceeds its inexpensive cost.  There are scores of videos now on hooping. So, today's call to action is: Hoop it up!
(For adults, Ms. Yancey, who has a master's degree in biomedical physics,  said a heavier hoop is much easier to use. Any other suggestions for those of us who are not great hoopers?)
FREE ONLINE COURSE
Enroll in this free online course, Brain Power and Play for Young Children, to learn how to boost your child's brain power before kindergarten!