Camping seems to give food a new flavor. When the kitchen is outdoors kids enjoy helping and being involved with cooking. Some camping favorites that are not too complicated for children's help are trail mix, toasted marshmallows, 'smores, hot dogs, baked apples, potatoes in foil jackets, corn on the cob, kebobs, and everything-but-the-sink foil pouches.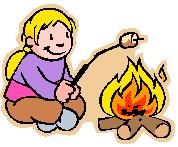 Did you know there are some readiness for kindergarten learning opportunities, too? Of course, there are some special safety concerns and that is an important lesson for kids–learning to focus and pay careful attention in order to stay safe. Plus, there's some science lessons as well, such as how heat changes food. Math can come into play with counting and measuring. There's lots of talking and listening. Kids practice sharing and working together while cooking. Being involved with making meals is a beginning to learning self-reliance skills.
This is just another way that camping can be great fun and great kindergarten readiness learning, too. Mmm, learning never tasted so good. What are your favorite camping and cooking with kids recipes?