With colder weather comes more inside the house days than outside ones. Does your little one need to wear off some pent-up energy?
Physical play  is essential to both children's healthy development and their learning. It's easy to understand how physical play contributes to physical development and gross motor (muscle) coordination. But this kind of play also stimulates other learning, too. As kids play in groups with other children they learn to listen and watch others for clues so they can play without hurting–a social and emotional aspect. Kids practice problem solving and other creative thinking skills. Big muscle fun may need some turn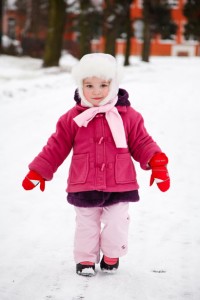 taking and negotiating. All of these are important for kindergarten readiness later on.
Of course, such physical play needs careful supervision by adults and some reasonable rules for safety. During the holiday season, trees and boxes use up some of the space inside, but there might be enough room for some "reindeer" to hitch up together and move around. With coats, boots, hats and mitts maybe an elf and a reindeer might like to have a race outside. Or the reindeer and elves might like to try different ways to move: hop, jump, fly, roll, zoom, etc.  What other ideas do you have for some whole body play fun?