We do not think of listening as an important readiness for kindergarten skill but it is crucial when it comes to learning. Horton Hears A Who is a fun book for encouraging listening skills.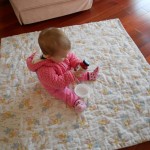 Being able to listen and learn is a key thinking strategy. Giving a baby a rattle to play with isn't just to keep the little one entertained. The baby is developing listening skills. This little one is playing with an empty bottle except for 2 small spoons inside that make enough noise to keep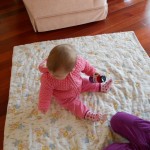 her happy and not drive the adults crazy. As soon as she heard another sound behind her, she switched her attention and looked around. Children learn to focus their attention on the sound. Watch a little one drop something off a highchair tray over and over without watching at all. If for some reason the sound is different, the baby quickly looks. The ear was getting the workout, not the eyes.
Some activities for developing listening strategies with your child include sharing books, telling stories, listening to music, singing, playing word games and making all different kinds of noises with voices and objects. As you and your child move around the house or care center today, listen carefully, do you hear any Who's?