Learning is not just for young children. All of us need to keep learning. The inspiration for this set of blog posts came from wondering on April Fool's Day what if instead of writing about how we can help kids learn I wrote about how kids can help us. By observing them we help ourselves and discover ways we can support their learning and kindergarten readiness too.
A rainstick makes a wonderful sound. Just in case you haven't seen and heard one, a hollow bamboo pole has been poked with thorns or cactus needles then partially filled with pebbles, beads, beans or other seeds. Once the ends have been sealed, when the stick is turned over the beans trickle down through the inside striking the needles and making a sound like rain. Rainsticks were used to encourage rain; nowadays they are used to make music.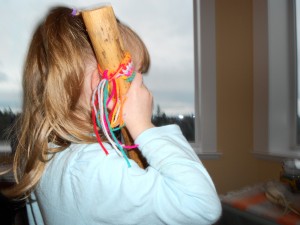 When I used a rainstick with a young child, I first demonstrated how it made a sound when turned over and over. Then, I gave it to her to hold. The first thing she did was hold it to her ear. I couldn't understand why; I had shown her how it worked. All she had to do was turn it over. But making the sound was not as important as listening to it. She had grasped right away that the sound had come from inside the bamboo tube and so she held it to her ear to hear what was happening inside. Only after listening carefully with her ear pressed against it for a minute or two did she turn it over and restart the sound.
What I interpreted as not understanding how to make something work, was not that at all. The child was responding first and doing later. As adult learners we often skip the step of responding or appreciating and just go to the doing. It's important as we help children learn that we give them time to take something in, to simply respond to it. This gives them time to get their thinking on track and also allows them to be very much in the present with what's happening rather than thinking about how to be doing it in the future. Asking children to tell us about what they see or what they hear at a point in time will help them practice this thinking and learning strategy. How will the rainstick help you and your child as you learn today?