Some kindergarten readiness evaluations will include a question about alphabet knowledge. Certainly it is helpful for kids to have some familiarity with letters and sounds before starting school, so that they can build on what they know and for their confidence. But kids do Not need flash cards and drill. Instead, there are fun ways to learn about letters with books, stories, songs, puzzles, and games. Kids can paint letters, or make some with playdough.  P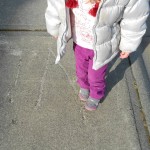 laydough is appealing to kids because they can squish and smoosh at the same time. Letters are easy to make and colorful. The playdough helps strengthen muscles in the hands and fingers, too.
Dr. Seuss's ABC book is a super book for both the names of letters and the their sounds. Not only is it a printed book but there's lots of YouTube videos, audio books, CDs and even apps. Kids need to see, hear and feel letters to make the brain connections. This takes repetition and practice and is easier to learn when it's fun. If you can, share The ABC Book by Dr. Seuss with your child today. Extend the learning with some fun letter and sound play, as is appropriate for your little one. We found some letters on the sidewalk! Can you zizzer-zazzer-zuzz some ABCs today?