The Eyes have it, that is The Eye Book by Dr. Seuss has the blog post today. A simple little story, after reading it a few times, kids will have parts of it memorized and can "read" it back to you. This pretend reading is tremendously important for learning to read later on and forms part of the readiness for kindergarten package.
Why is this pretend reading so crucial? It is so important because it is the basis for learning to read. It seems obvious to us, but it isn't to kids. Kids need to learn that the black line squiggles called letters have meaning. Once kids connect that print tells us something, they are on their way to figuring out that something.
This may still sound confusing, so I'll use an example. Following are 2 ways of reading the word eye.
1. Point out the word eye. A child could look at the letter e and say it looks like a circle but instead of going all around, it has a line across the tummy, then there is a letter with 2 arms and 1 leg, and the circle e again. That's one way of "reading" the word e y e but it has no meaning.
2. Point out the word eye and say this is how we write eye when we say it. Talk about eyes: where they are, how we use eyes, point to eyes, open and close them, etc. Together look at the word eye and "read" it. This time the child connects those same 3 squiggles with the meaning of eye. A connection is established with the letters and what it stands for. Just like a long chain, the print is connected to the word eye, and the word eye is linked to all the things that the child knows about eyes and suddenly those letters e y e are full of meaning.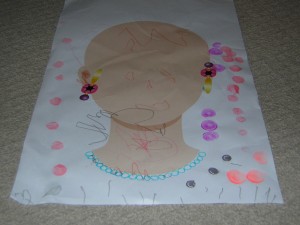 Only when children understand that print is meaning-full are they ready to start building toward tackling the squiggle-code. Simple books such as this one help build the print-meaning connection for kids. Check out eyes in a mirror and see their colors. Your child may want to draw a picture of eyes or add some to a face shape. Play peek-a-boo. Or h'eye'd & go seek, (just couldn't resist that play on words). These are ways to grow the pathways in the brain that kids need so they can learn to read. Eye hope, oops…, I hope this has been helpful for you. Can you see how to do this?