Does your family do anything special in the month of Dinovember? Did you know over a quarter of a million people watch the Dinovember FB page? Dinovember is the idea of parents Refe and Susan Tuma who wanted to hold onto the magic and wonder of childhood for their children for a little longer. The digital world can be stiff competition for the imaginative one. So, using plastic dinosaur figurines, they pretended the dinosaurs had come to life in the night, and the kids woke up to see whatever had happened.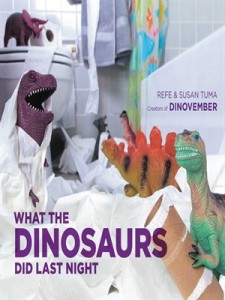 Even if the dinosaurs at your house do not get up to hilarious antics and mischief they are wonderful toys and encourage dinosaur-size fun and learning for preschoolers. It's a mystery why dinosaurs that disappeared over 60 million years ago are so loved by kids. They were not cute and cuddly. While their appeal hasn't lasted as long as the dinosaurs did, they are favorites of many children and, truth be told, lots of adults too.
One way to experience dinosaurs is with books. The Dinovember book will likely be on many wish lists this year–including mine–along with a whole nest of other treasures. There are dinosaur books for kids of any age, from  simple board books to detailed encyclopedias. Dinosaurs help with the alphabet, colors, sizes, shapes, and counting. There are books with cartoon dinos and others with more realistic and scary illustrations.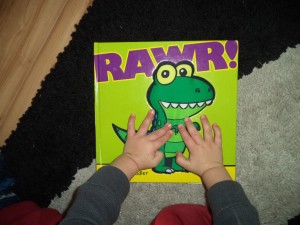 Dinosaurs have all kinds of adventures and encounters, including one with a potty: Dinosaur vs. The Potty by Bob Shea. One dinosaur is scared of vegetables: My Dinosaur is Scared of Vegetables by Lily Lexington and some love underpants: Dinosaurs Love Underpants by Claire Freedman. Somehow, 3 dinosaurs meet Goldilocks in Goldilocks and the Three Dinosaurs, by Mo Willems. There might be 3 of them, just like the bears, but the rest of the story is sure not the same. RAWR, by Todd H. Doodler, means "Hello" in dinosaur.
Sharing books with children is a powerful activity. As children listen to stories, their brains create connections for language and the dino-challenge of learning to read. Their imaginations get to take a 60-million-year leap. Can you and your child recommend some dinosaur tales?