Giving kids something to do in the kitchen while adults are preparing a meal helps them feel included and can keep them safely occupied. If you are busy today, here is an idea for a nutritious fruit snack that can be either a dinosaur or a turkey, or you can make one of each. After all, turkeys are the closest living creature to a dinosaur. They both have wish bones. A dinosaur wish bone would be for really big wishes.
The base for each creature is half an apple. For the dinosaur, kids can push a grape onto the end of a toothpick. These are the bony plates and about 4-6 are needed  for each row. Adult hands can help push these grape-toothpicks into the apple to make a row. Some dinosaurs only have 1 row of bony plates, and some have 2. If your child wants a dinosaur with 2 rows, use  another 4-6. Raisins can be used for eyes. Attach an eye on each side with half a toothpick. Bits of cheese on toothpicks can be used for the nose and tail, or another fruit such as bits of banana or orange.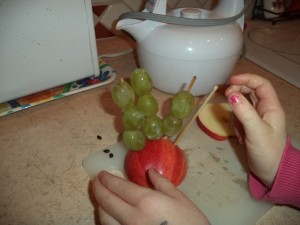 For the turkey, again start with half an apple. This time extra long toothpicks or skewers are needed. Kids can push 3 or more grapes onto each skewer, then adults can push the skewers into the apple to make the big fan tail. Attach 2 eyes, both in the front, with small toothpicks. The beak can be a bit of cheese or carrot.
These are colorful to display on the table for the whole family. For both of these, be careful when eating to take out the toothpicks.
Not only are kitchens great places to be together, they are full of fun and learning. There's counting, colors, shapes, sizes, comparing, following instructions, making decisions, using language purposefully, planning, organizing and more. Kids are more likely to eat when they have been involved in preparation and make healthy food choices. Aren't these almost too cute to gobble up?