Yes, learning to print numbers can be lots of fun! Here are 10 fun ways kids can learn to print numbers. These will entice even reluctant kids.
1. Printing numbers doesn't need pens and papers. Little Sister is making some numbers in a bowl of sand. First, the sand needed to be mixed up, then patted smooth ready for either hand's pointer finger to dive right in and draw. A paint brush worked to erase a number and do a different one.
2. Bath crayons are another way to have some number fun. According to a dad and son I know, soap crayons are also great in the shower and make cool tracks of color on the shower wall as they drip.
3. Using chalk on a sidewalk or driveway means kids can draw numbers as big as they want.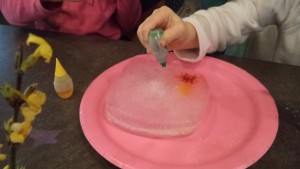 4. Painting numbers can be done with brushes, fingers, or paint dabbers. For something very cool, kids can paint on ice with either food coloring or an eye dropper of color. This block of ice was water frozen overnight in a sandwich container and set on a disposable plate.
5. Give kids a squirt bottle and a pail of water. They can squirt numbers on the patio, a retaining wall, or maybe the fence.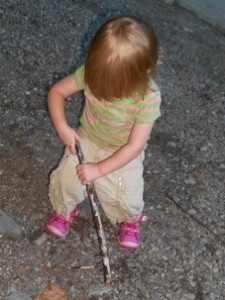 6. A stick in the mud can be a good thing. It makes a giant pencil for drawing numbers on a beach or in the mud.
7. A chopstick, plastic picnic knife, or other small  kitchen tool can be used to make numbers in plasticine or play dough.
8. Spread some ketchup on a plate and let kids draw numbers with french fries or zucchini sticks.
9. For dessert, let kids cover a plate with a thin layer of chocolate pudding. Fingers draw numbers and kids lick fingers.
10. Mix up a batch of cookie dough, the kind that you roll and cut out. Kids can very gently draw one number on each cookie. With other cookies, kids can try a squirt of icing to do numbers once the cookies are baked.
These are not just fun, but very sensory and creative too. With so many plays-of-the-day and ways kids can learn to print numbers, could we say your days are numbered?