Colors can be used in so many different play activities, not just art. A few drops of food coloring and water made for some color and fizzy science fun.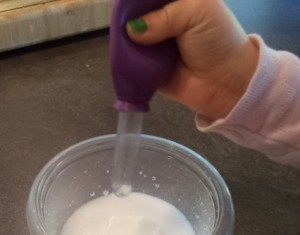 Set out some small containers with a bit of vinegar in each, and add a few drops of food coloring. The darker the solution the easier it is to see when it mixes, but the worse it might stain. The colors will wash off fingers, but just in case, put something on counters and kids for stain protection. The big eye droppers are much easier for little hands and fingers. Spoon some baking soda into a fairly flat bowl or two. With an eye-dropper kids can squirt the vinegar and color onto the baking soda and watch the colors fizz.  It's quite intriguing to watch one color fizz and bubble in the baking soda.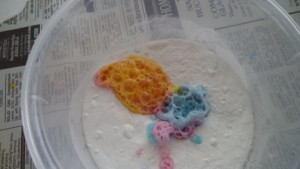 Kids can try each color by itself. They can also squirt one color onto a spot and then another one right away to see what happens when the colors get mixed together. Surprisingly, we found the colors didn't mix together as they bubbled and fizzed. They just tended to be one color on top of another one. The only way to get purple, orange, and green was to mix the drops of vinegar colors together first. The colors were lovely though as they bubbled up and popped as the baking soda and vinegar mixed. It was great fun to watch over and over and is an interesting way to learn colors.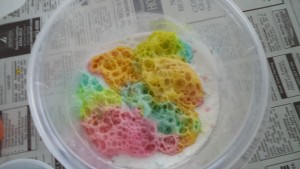 The colors made quite a striking mosaic in the bowl and Big Sister continued until she had had covered up all the white. Little Sister liked the feel of the baking soda mixed with a little colored vinegar liquid. She is more at the stage of sensory stimulation while Big Sister wanted the result.
This was another easy and simple science activity and was both colorful and fizzy. Might some color and fizzy science fun be the play-of-the-day for your child?