Tech support will delete your cookies and so will kids. For a play-of-the-day, tie on an apron for Christmas cooking with kids.
At this time of year, many families are making holiday favorites. While some make cookies, others are kneading the dough for cinnamon buns, rolling out pyrogies, decorating Yule logs, wrapping up tamales, cutting out mincemeat and butter tarts, chopping fruit for fruitcakes and Christmas puddings, and lining pans with pastry for tourtière (meat pie). These are only a few of the goodies that happen at this time of year in kitchens all around the world.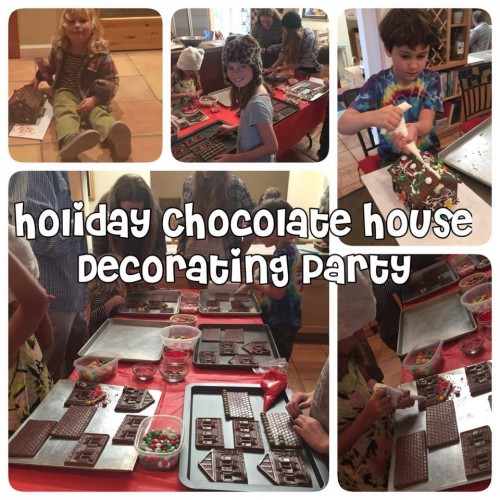 One of my friends and her kids and the grandkids plus assorted friends all get together for their version of gingerbread houses—which are made out of chocolate. Six of her seven grandchildren were there, ranging in age from 2½ to 19. The kids each got to decorate their own gingerbread house to take home. As she says, "You can NEVER have too many gum drops or Jelly Belly's on the roof right?"
Obviously, this is a well-loved event because it happens year after year and it's so meaningful for kids in a variety of ways. Feeling included is something we all want. Being part of a group or family gives kids a sense of belonging and increases their resilience and confidence. Kids too enjoy being creative and making something. Satisfaction is a reward for effort.
In addition to the emotional aspects, when cooking with kids, they learn about measuring, sequencing, counting, and following the steps in a recipe. There's a fair amount of science as kids observe how mixing and heating cause changes. Language is an ingredient with special words and phrases as the cooks explain, ask and answer questions, and talk to each other. Children who cook develop more positive attitudes about food and nutrition as well.
Any Christmas cooking with kids happening at your house?