There's nothing like sun to encourage vigorous active play and that's how L loves to play. Movement and whole body play are his play valentine.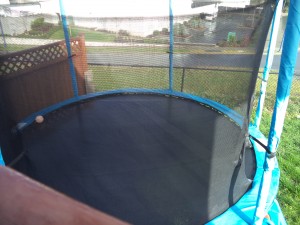 A happy, busy 3 year old, L likes to move. His outside trampoline gets almost daily use, when weather permits, as he jumps and runs. He sometimes chooses a ball and kicks it around inside the safety net at the sides. Trying to catch bubbles is another favorite game as an adult blow bubbles his way. He flexes his knees and jumps as high as he can to reach the bubbles before they disappear or float away on the wind. Can't see him in the photo? We're just waiting for the rain to dry.
For inside, L likes his round jumping space. This is a much smaller version of a trampoline. It's set up in the living/dining room at his house, close to sofa. L can jump for a few minutes whenever he likes. He proudly announces, "I jump high. I jump far."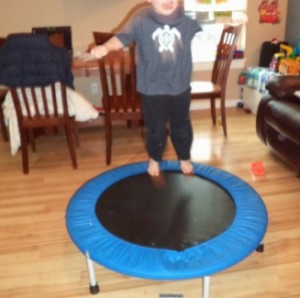 He also says, "I go fast, fast." Not surprisingly, L enjoys going fast on his bike. He's learning to balance on his new scooter that he just got for his third birthday. A wagon is for pulling behind as he goes for a walk. Close to home, there's a path down a hill to the edge of a lake where L can throw rocks in the water.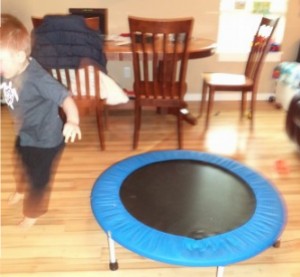 When L does slow down for a story or a cuddle, he loves blanket mountains. These are lots of thick, soft blankets spread over him to be heavy and cozy.
Movement activities and what he can do with his body are important for L. When he's happy, L gives big hugs and kisses. When he's sad, besides his tears, his body shakes with sobs. Already at this age, those around him can see he will need to be in a career where he moves and uses his muscles. His love and need for vigorous active play and whole body activities give definite clues. Isn't it fascinating to see the different ways children play and how they express who they are as they play?