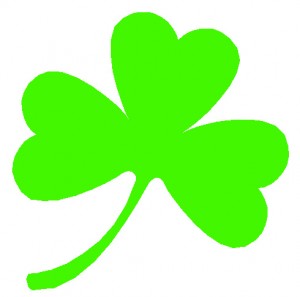 Crafts and green snacks are not the only way to celebrate St. Patrick's Day. For a play-of-the-day, here is an idea for leprechaun sensory play for kids.
Leprechauns like gold and shiny things so we started the sensory play with a search thru the button box. Both Big Sister and Little Sister love to look at the assortment of buttons and have their own small tins of buttons.
T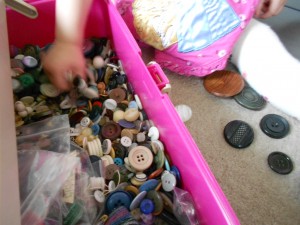 his kind of play is obviously for kids beyond the everything-in-the-mouth stage. They chose some gold metal buttons for leprechaun gold. Little Sister also picked out some big, round ones because they were like money.
After they had these items, the girls buried them in a bowl of kinetic sand, either digging holes with their fingers or just pushing the buttons as deep as they could go.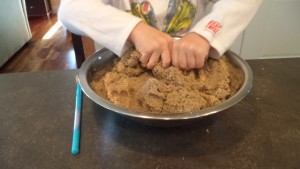 Once their treasures were buried, and the top of the sand all smoothed out, they got to try and find them and dig them up again. A chopstick proved to be a useful tool, as well as a spoon/straw.
**It's a good idea to count the number of buttons before burying them so you know how many need to get found.**
There was lots of talk of looking for treasure as the kids played in the sand. This didn't need an entire sandbox, just a big bowl on the counter. They both interacted and did their own thing independent of each other. The idea was adult-suggested but the play was child-directed.
Sensory play is highly necessary for kids. Children take in information about the world thru the senses. "The senses are their most familiar, most basic way to explore, process, and come to understand new information." (Amanda Morgan, A Handful of Fun: Why Sensory Play is Important for Preschoolers) The mind then uses this information to make vital pathways and connections in the brain.
The real treasure of this leprechaun sensory play activity is the play and fun. Will your child's day include some sensory play?