Treasure, whether dragon or pirate, sometimes gets buried and digging for treasure is fun for kids with some dragon sensory imaginative play. Adults too; think of gold digging or excavating.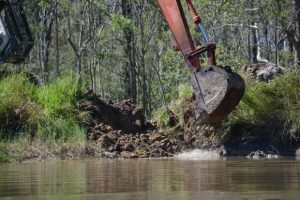 With their huge claws, digging is pretty easy for dragons. It's harder for kids. If you live somewhere warm enough so the yard isn't covered in rain or snow, kids can play in the sandbox. If not, this can be done inside too. For indoor play, fill a large bowl or other container with kinetic sand. You can find recipes to make your own at home using sand, cornstarch, liquid soap, and water. There are lots of recipes on line.
Either inside or outside, the first thing is to find some small items to be treasure. Some suggestions are small stones, plastic figurines, spools from thread, beads, and play coins. For outside sand boxes these can be larger than for play inside. Since all the sand will be in a container, it's possible to put in some real coins, like a quarter or two and smaller things like marbles and plastic colored gems. With your child, count the treasure so you know when it's all found. You can also use a cupcake tin or an egg carton. Before burying, put one treasure in each section. If there's an empty space later something is still hiding in the sand.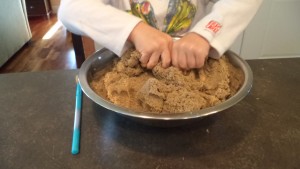 Kids like to both bury the treasure and then find it. Shovels are great for sand boxes and spoons will do for bowls. Fingers can also dig and sift through the sand. If you have an old strainer, kids can pour in shovelfuls or spoonfuls of sand. A few shakes, the sand sifts out, and all that's left is the treasure.
This dragon sensory imaginative play activity combines sensory play and make-believe. Skin gets to feel the sand, eyes both see the the treasure and get to seek it. There's some stimulation for hearing but not much for smell and none for taste—we hope. Kids can imagine they are looking for dragon treasure or they might want to be the dragon who is burying it. Plus, thinking skills like problem-solving and concentration come into play. Kids are communicating and working to achieve a goal, that of finding the treasure. For kid-dragons, isn't the best treasure the play itself?