Last week was Canada's turn for a long weekend, Victoria Day. Now, it's the long weekend in the US for Memorial Day. For both countries, these days are the unofficial start of summer. Similarly, they both have links to historical events and past traditions.
Children are very present oriented, which is quite understandable. They don't have a lot of past. Adults are often reminded to be in the Now. But, for all of us, what we imagine as our future, is influenced by our past and at some level, we need to engage with the past.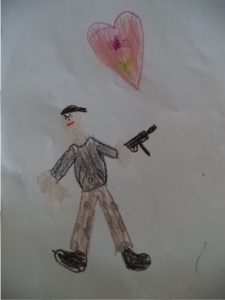 A simple Memorial Day activity for kids is to ask them to draw a picture of a soldier. As we ask children to remember soldiers, we also need to check what they know about them. Having them draw and tell us about what they colored on the page is one way to see and hear their thoughts. Children's drawings are a sort of show and tell.
The following video has been circulating on Facebook this week. For the charity, Inspiring the Future, children were asked to draw a picture of a firefighter, a surgeon, and a fighter pilot.
Out of 66 pictures, 61 drawings were men and only 5 were women. When we ask children to draw a picture of a soldier, will they draw men or women? Most likely, the soldiers will be men. Regardless, this post isn't a criticism of gender limitations. That would not be appropriate here. Instead, it's a reminder to think of soldiers are real people. As neighbors, family members, the dads and moms of kids who also go to play school, daycare, and kindergarten. Do kids know what they do? Who they are?
Having a link to a soldier in the present, helps children connect to the past. A personal familiarity will make remembering others so much more meaningful. Is there a way you can make connecting to a soldier happen for your child?