On the weekend, our community had a Touch A Truck event. This was for both Father's Day and a local fundraiser. What fun for both kids and adults!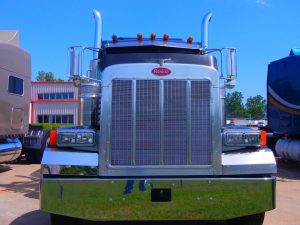 A dream come true for kids, there were all kinds of trucks: a firetruck, ambulance, garbage truck, big transport truck with eighteen wheels, excavator, two different dump trucks, fuel trucks, a few tractors, a police car, and more. It was like Roger Priddy's My Big Truck Book come to life with a whole parking lot full of trucks.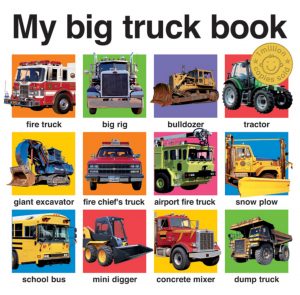 For the first hour, the horns were quiet, but kids got to climb up and sit in the seats. They could look around, touch the buttons, and pretend to drive. Holding tight to her daddy's hand and with the help of the driver, Little Sister got to move the garbage truck lever and lift up the trash container then set it back down. On the tractor, she sat all by herself. Big Sister climbed the ladder and discovered how high the sides are on a dump truck. The box of a dump truck is bigger than a room. Wheels on a couple of the  trucks were taller than some grownups.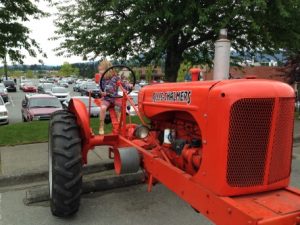 Although the kids had to line up and take turns, it was exciting to be up close and personal with the trucks they see. Kids watch videos of trucks and construction equipment so have ideas of how they work, but getting inside is a whole different story. Because we see these trucks on the streets and highways regularly, when we think of them, we picture them from the outside. The Touch A Truck event gives kids a chance to check out the view from the inside. Imagining being a driver in one of these will have so many more details after getting this kind of an experience and is so much easier after being hands-on. Kids will also have lots and lots of new words for talking about trucks. The video below is from another city and there were others from all over.
It's no wonder Touch A Truck events are happening in more and more places. This was an awesome afternoon. Don't think we can wait a year for another one. Any chance there will be one in your area?