Some bits of wood made for a fun and exciting wood-scraps dragon castle craft. Along with some glue and paint, the kids created their own toys and fun.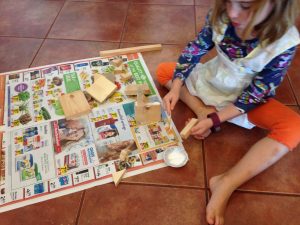 After adding some shelves in the garage, we had a few bits of wood left over. Instead of recycling them, I gathered them into a box and gave them to the kids to use. Wood absorbs glue so they needed a couple of refills to the small dishes of white glue. Before getting the glue, I gave them a chance to build with the wood scraps and try them in lots of different ways. After quite a few minutes, they were ready to attach their creations together. Using popsicle sticks they slathered on the glue and stuck the pieces together. They were having so much fun, they wanted more, so we found some corks to add. Their castles were quite elaborate.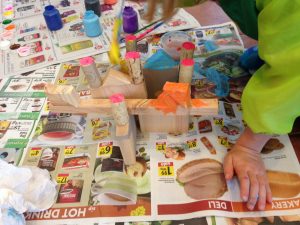 Glue needs time to dry so once they each finished their wood-scraps dragon castle, we carefully put them in a safe place and cleaned up. It was hard for them to wait and not just for an hour or two but the whole rest of the day and overnight. The next day the castles were ready, so out came all the paints and another good chunk of time. To do this, we spread newspapers over the floor to catch the drips. Even though the paint lids were carefully set to one side, Little Sister managed to stick her toes into a couple of them and paint the bottoms of her toes instead. This was tremendously funny. A couple of rags tidied that up and the paint lids got moved even farther away.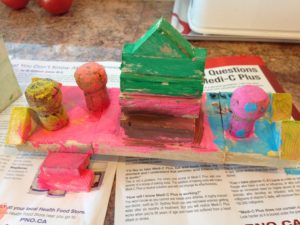 Toys don't have to be something we buy for kids. These wood scraps had and continue to have wonderful play value. Besides the building and the painting, the kids have played with these castles several times. One day, they used some dragons and another day, some different small plastic figurines. The castles transformed into schools during another play session. The dragon castle craft turned into an imaginative and creative toy.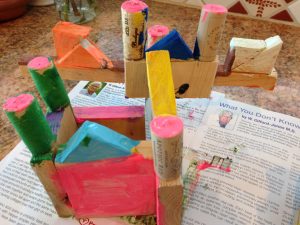 To find wood scraps, you may have to be creative and ask around. Lumber stores may have a bin of bits of wood, or a building site. Is there a new house going up in your area? Usually, once you let a few people know, they will watch for you and save some for your kid-dragons. Small boxes will also work. Cereal and other food boxes, toilet rolls, and items in the recycling basket are other treasures. Dragons may need to be reminded—no breathing fire on this dragon castle craft. What other recycling treasures can you suggest?