Christmas has a very special kind of magic; a kids recycled Christmas decoration is a way kids can make some of that magic and pass it along to others. In Big Sister's own words after she made something to give away, "I feel good."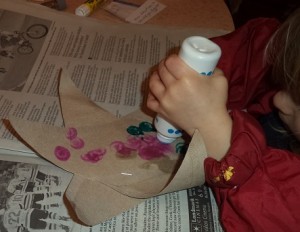 Just a quick search oh Google gives so many ideas for items kids can make. Check your recycling box and she what kinds of treasures are in it. Paper towel and tissue rolls are nearly always in ours. There are a few water bottles and cereal boxes too. Along with a few scraps of fabric, buttons, wrapping paper, magazines, ribbon, and whatever else you can find in the craft basket, there's plenty of material for little hands to explore and create.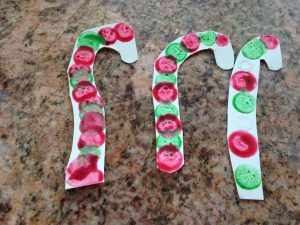 Last week, when doing some Christmas pattern fun with paint dabbers we used some stiff cardboard and made candy canes. You could also draw a circle on a big enough cardboard and let kids paint a wreath. This wouldn't have to be in a pattern, just a few sports of red to make berries and green all around.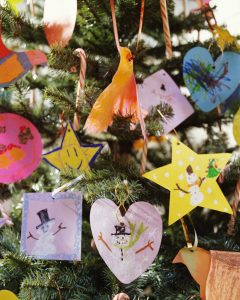 Cut out stiff paper in any shape, such as a heart, star, circle, candy cane, and let kids paint the background color. When it's dry they can use markers and crayons to draw or print a message.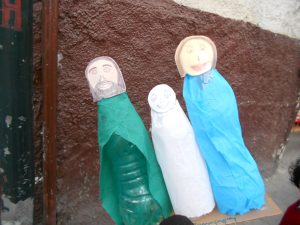 These two Nativity scenes were made by the children of friends and readers, one with recycled water bottles and one with tissue paper rolls. Instead of just passively seeing the Christmas story, when children are involved in making different people and animals for themselves, they take on a much deeper role almost as if they were participating in it. Depending on your family traditions, recycled decorations may be much different. Tissue paper rolls can become the candles in a Menorah.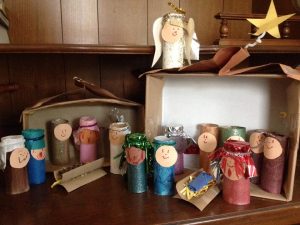 Old Christmas cards offer other options for making ornaments. Four circles folded in half and glued back to back make colorful balls to hand on a tree.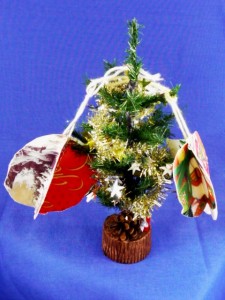 Three toilet paper rolls can be opened up and flattened to make a six-pointed star. Add some color and glitter and enjoy it for years. An alternative is to have kids paint several of these with white as snowflakes. After all, we need more reasons to use glitter.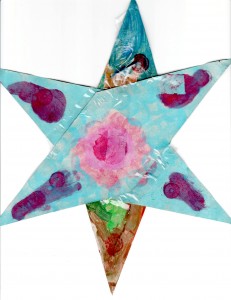 Christmas isn't just a season for receiving, it's also for giving. Handmade and homemade items are ones that come from our hearts. A kids recycled Christmas decoration is sort of like giving one to Nature, isn't it?