There are not a lot of kids dragon songs but this children's dragon book turned an old favorite about farm animals into a very funny, silly one to sing.
Old MacDonald Had a Dragon is written by Ken Baker and illustrated by Christopher Santoro. In the story, the farmer likes having a dragon on the farm but one-by-one the animals on the farm object. As the farmer keeps singing, one-by-one the dragon swallows them up. When the dragon eats the dog, the farmer objects. By this time, kids can predict what happens to the farmer. Inside the dragon's tummy, the farmer rejoins the other animals. The farmer keeps singing but now it goes, "Old MacDonald had a dragon, E I E I O. And IN that dragon he had a cow, pig, sheep, and dog." The dragon burps everyone out and flies away with a terrible tummy ache.
Instead of being on the farm, kids can sing about what animals are IN the dragon. You can also add the names of the people in the family. At the end of the song, remember to BURP so there's a happy ending. Kids can add the words "Excuse me," and fly away.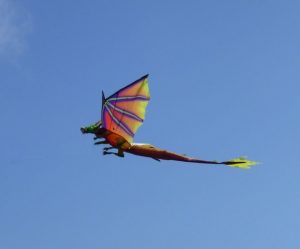 Another song is Fly, Dragon Fly. This isn't about dragon flies but actions dragons can do. The first verse came from EverythingPreschool.com but the rest we made up to have more singing fun.
Fly Dragon Fly
(tune Skip To My Lou)
Fly, fly, dragon fly,
Fly, fly, dragon fly,
Fly, fly, dragon fly,
Way up in the sky.
Add more actions and make up some new rhymes..
Jump, jump, dragon jump…
Land without a bump.
Hop, hop, dragon hop…
Hop until you stop.
Roll, roll, dragon roll…
Stand up like a pole.
Swim, swim, dragon swim…
See you at the gym.
Finish with a fiery roar and a rest.
Roar, roar, dragon roar…
That's enough, no more.
Sit, sit, dragon sit…
You can rest a bit.
Sleep, sleep, dragon sleep.
Sleep, sleep, dragon sleep.
Sleep, sleep, dragon sleep.
Sh, sh, zzzzzzzzzzzzzzz.
Of course, Puff the Magic Dragon is another song but that one has lots of words. Do you know any more kids dragon songs?