This week the US President, the Canadian Prime Minister, and the Mexican President had a Three Amigos meeting. Today, make a flag for Canada Day. Amigo means friend, and the meeting was to support friendly ties of the three countries that make North America. July 1st is Canada's national holiday. This year, that holiday is a Friday. July 4th, Independence Day of the United States is a Monday. That makes for a double long weekend of celebration. If Mexico only had a holiday now, we could celebrate across the continent for a week.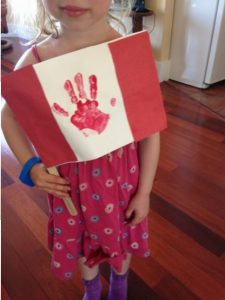 The Canadian flag is two red bars on each side of a white background with a red maple leaf in the center. These are the steps:
1. To make a flag, use a sheet of thick white paper, 8.5 by 11 inches. Turn it on the side, the long way.
2. The paper will be a bit too tall for a flag rectangle, so if little hands are old enough for scissors, they cut off about an inch and a half. Big hands can measure and draw them a line.
3. Fold over about an inch on the left side of the white rectangle and tuck it underneath. This is for gluing to a stick.
4. The sides of the flag can be two red rectangles, the same height as the flag and about 3 inches wide and glued on, or kids can paint the sides in a bright red color. **Leave about an inch on the left side of the white paper to turn over
5. Drawing a maple leaf isn't easy for kids or even adults. Instead of a maple leaf, kids can use their hand. Put some red paint on a flat plate or plastic container lid. Kids dip in a hand, palm down. They can carefully make a handprint in the middle of the flag, spreading their fingers wide apart like the points on the maple leaf.
As an alternative to red paint, adults can help kids trace around a hand with fingers spread and cut it out. This gets glued in the middle.
6. Glue the bit of white paper rectangle to a flat stick or chopstick to be a handle to hold.
No matter where you live, it's fun to make a flag for Canada Day. Canadians will be eating flags and waving cake. Oops, I mean eating cake and waving flags, don't I?